Alpiq EnerTrans improves inspection efficiency by 50% for Swiss network grid operators
Citizens across Switzerland are provided power through an immense network of power lines – totaling 250,000 kilometers (over 55,000 miles), long enough to wrap around the earth 6 times. Working behind this network is – among others – Swissgrid, the national transmission grid operator, who is tasked with not only keeping the lines online but also tying the Swiss energy grid into the larger European grid network.
With lines running along valleys and across Switzerland's notoriously steep mountain ranges, Swissgrid, who owns 6,700 km of transmission lines, and the local network operators have a difficult task to ensure the vast network remains operational year round – especially through harsh weather conditions. Making situations more difficult is that much of the network was originally built decades earlier, with only one third of the critically important extra-high-voltage transmission lines being built after 1980 and the majority of concrete poles holding up the medium and high voltage lines erected in the 50s and 70s. Due to the networks' aging nature, grid owners are increasingly looking to raise the frequency they inspect each individual line – surpassing legal minimum frequencies of two to five years.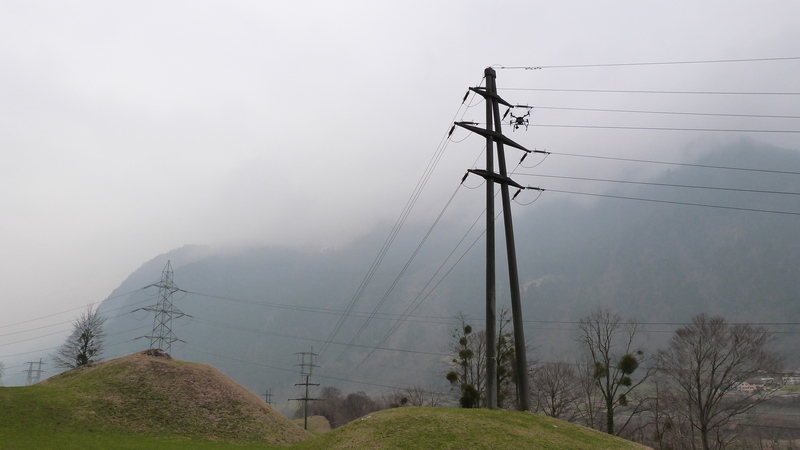 Inspections of pylons cannot always wait for good weather, particularly in mountainous regions
Managing increased inspection frequencies drives demand for updated tools
As the demand for inspections increases, grid operators have turned their eyes towards their standard operations to see how new technology can increase efficiency. This becomes increasingly important as existing inspection methods require a pylon to be taken offline, costing tens of thousands of Euros per hour – and adding up to millions over the years.
The conventional method for inspecting power pylons begins with an inspector using binoculars to gain a first assessment of the tower. If a potential defect or damage is spotted, the inspector will climb the tower for a closer look. This process is both time consuming and dangerous as the inspector risks falling on each mission. In addition to the human risk – due to the requirement of synchronizing with the transcontinental grid – the operator needs to plan months in advance for the inspection so the line can be turned off and the downtime causes a network redundancy reduction. The last component that limits legacy methods to meeting new demands is that, in addition to risk to personnel and production loss, the process isn't guaranteed – the inspection can still be delayed due to bad weather or other cancellations.
Alpiq enertrans – aerial grid inspections specialist
Working alongside Swissgrid to keep this network running is Alpiq EnerTrans, who constructs and operates power lines and switchgear systems – with a specialization on high and medium voltage lines. Starting in 2014, Alpiq established a drone services team to supplement their existing work with national and regional network owners with aerial inspections.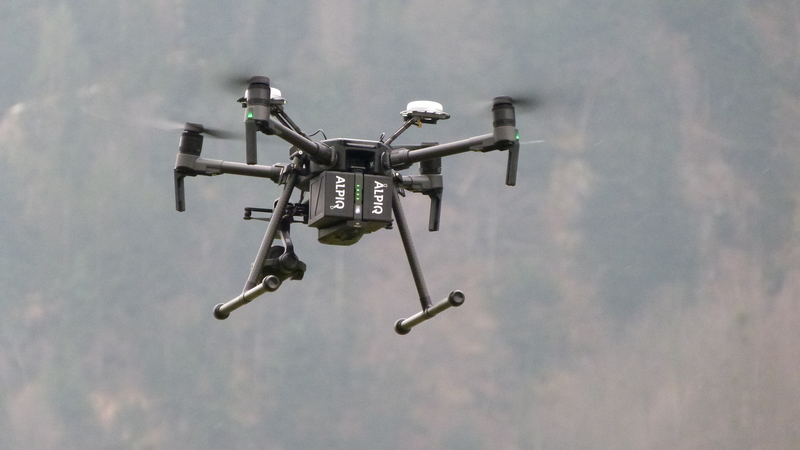 Working with a local power supplier, Marc Tschachtli, Head of UAV operations at Alpiq EnerTrans, and his team helped inspect 65 pylons along a 50KV line. Marc sums up his years of experience utilizing drones for grid inspections, saying "UAVs for power lines inspection offers unknown perspectives on the object and the workflow can be streamlined considerably. With an expert eye damages can be detected easily while flying each pylon on two sides from a diagonal angle."
Despite these benefits, his team has previously been concerned about flight time and stability. With Alpiq's previous drones, Marc and his team had to land and swap out batteries every 10 minutes. The problem was solved once his team acquired a DJI Matrice 210 RTK unit, which offers up to 24 minutes flight time with dual payloads and TB55 batteries. In addition to a prolonged flight time, the DJI M210 RTK also met Alpiq's internal safety requirements. This flight stability is provided by its use of multiple GPS units to determine heading instead of a compass – which is easily affected near strong power lines. Marc summarizes it best, saying "the DJI M210RTK provides extremely stable flying behavior even very close to the pylon where the magnetic interference is high."
Once Marc and his team was comfortable with the drone's flight performance, they turned their eyes on securing the most relevant data. To do so, Marc uses the DJI Zenmuse X5S with a 45mm lens and Zenmuse Z30 in case a closer look is needed. Marc explains, "the picture quality of the DJI X5S lets us interpret the damages mid-flight and properly document them. We primarily find lighting strokes, broken insulators, crumbling concrete or rusting metal structure."
In addition to standard visual data, Marc has started attaching the Zenmuse XT thermal camera onto the teams' M210 RTK to help understand the thermal footprint of electrical components. This has helped the team detect anomalies or hotspots before they become larger issues.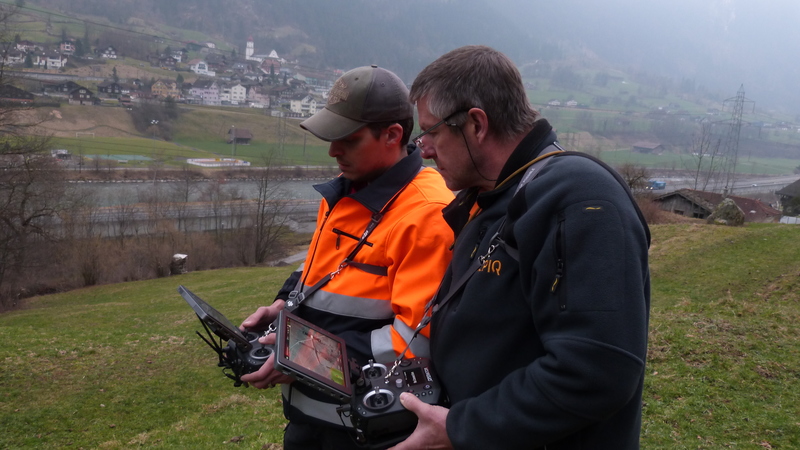 Alpiq EnerTrans uses two pilots for inspections alongside high voltage lines due internal security regulations

Utilizing the M210 RTK, the team can spot insulator and concrete damage and mark them for repair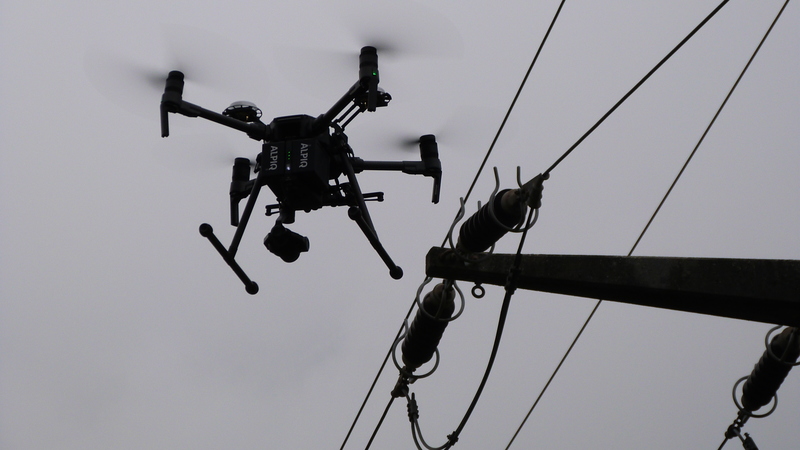 Alpiq's team has streamlined their inspection process by flying diagonally along each side of the pylon
Efficiency gains
The Alpiq EnerTrans drone inspection team works closely with operators to ensure their aerial imagery delivers the quality of data needed. Anton Zgraggen, Head of Network Construction at Altdorf Utility Company, and his team operate their local energy network and have seen the benefits of Alpiq's drone services. "Typically there is a limited time window for inspections of a defined section of the grid" explains Anton, "Alpiq EnerTrans was given 5 days to inspect 65 pylons and completed the work in 3 days. If we would have done the same 65 pylons in the conventional way with a line controller it would have taken 6-7 days, so it saved us 40-50% of time, let alone the increase in job safety."
In addition to the raw efficiency and safety benefits of drone technology, Anton's team is able to establish a detailed digital documentation of errors or defects using the data from Alpiq's, relying in their technical expertise available. The reporting allows the Altdorf Utility Company's team to determine, for each pylon, the level of existing damage or degradation rate. By tracking each aerial photo to the pole's number, the grid operator is able to rapidly go from identifying damages to a detailed repair plan. The repair process still requires a portion of the grid to be taken offline, but the drone data eliminates the majority of the downtime.
Source:
https://enterprise.dji.com/