Welcome to a drone's worst nightmare: DJI's durability lab. At this advanced UAV test lab, a cadre of engineers and technicians guide the Matrice 300 RTK through a gauntlet of trials to ensure it is ready for action even in the harshest of environments and conditions.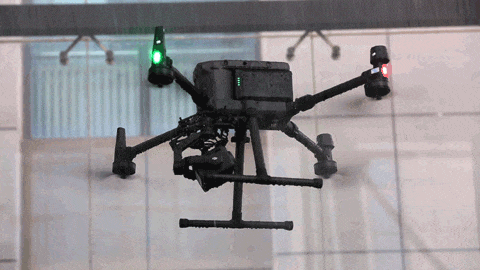 Today's test subject: the Matrice 300 (M300) RTK.
As an enterprise-class product, the M300 RTK is expected to do much more than ordinary unmanned aerial vehicles (UAVs). This is because customers routinely rely on the M300 RTK for rigorous operations like search and rescue, inspection, mapping and more, sometimes extremely challenging environments. Due to the high standards of our customers, the M300 RTK must be able to operate effectively, reliably, and safely in a variety of adverse weather situations.
In DJI's durability lab, engineers put the M300 RTK through the following six simulations to assess its reliability during duress. Throughout the testing program, engineers look closely at how extreme conditions and moisture affect the drone's motors and rotors, electric speed and flight controllers, and flight stability and reliability.
How Did the M300 RTK Perform in Extreme Weather Simulations
Stage 1: Varying Temperature Test
The first round of that the M300 RTK typically goes through is the hot and cold temperature test which is designed to see how well the drone operates under varying temperatures. With customers across the globe flying the M300 RTK in many regions and varying climates, it's important that extreme temperatures won't render the M300 RTK inoperable. Temperatures up to 50°C won't trouble the M300 RTK, while self-heating smart batteries can enable safe operations down to -20°C.
Stage 2: Wind Resistance Test
High winds can knock a UAV off its path and in worst cases cause it to crash. For this reason, DJI engineers turn to the wind tunnel to study and improve UAV performance under breezy conditions. The M300 RTK is outfitted with powerful motors that enable it to ascend at up to 6 m/s, fly up to 23 m/s, and handle wind speeds up to 15 m/s or 33.5 mph.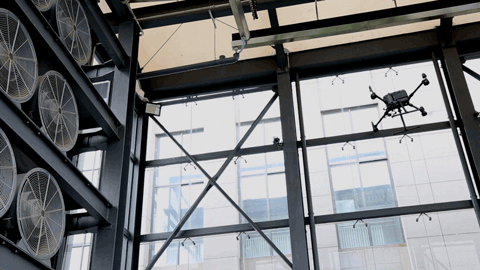 Stage 3: Salt & Steam Test
For our customers who operate near the ocean, it's important that their drone can resist the effects of salt buildup and corrosion. Moreover, fog that hampers maneuverability and visibility can sometimes affect a drone's functionality. To address these concerns, DJI engineers entomb the M300 RTK in a salt and steam simulator for up to 48 hours to confirm that it will continually operate even in challenging coastal environments.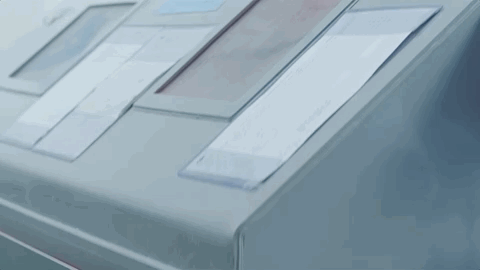 Stage 4: Rain Test
It is never recommended to fly when it's raining. But for critical missions that can't wait for clearer skies, it's important that the M300 RTK can handle the stress. Light rain can affect the maneuverability of a drone, but more importantly, any moisture that seeps inside can disrupt the delicate internal electronic components. To verify that the M300 RTK can handle a rainstorm and continue to operate, DJI engineers put the UAV through a rain simulator (IPX1).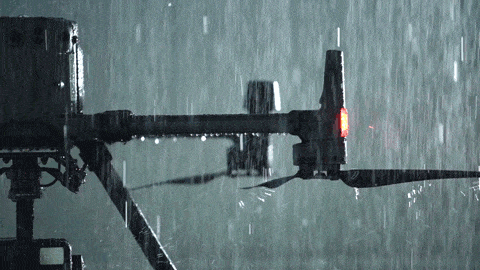 Stage 5: Adverse Rain Test
While IPX1 ratings are not uncommon for enterprise-class drones, the M300 RTK was designed to excel beyond the rest. Here, the M300 RTK is also tested with a swirling rain simulator (IPX4) to show that not only its topside, but also its undercarriage can tolerate the rain. The results of this test were impressive as the M300 RTK endured showers with a 360-degree curtain of water and once again continued to operate.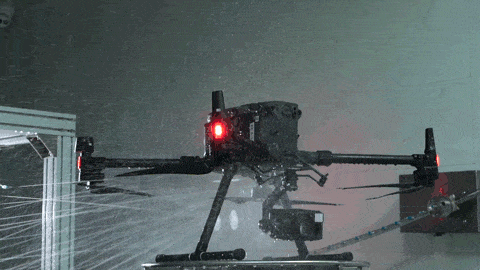 DJI's engineering team could have stopped here, but decided to take the water testing one step further to prove that the M300 RTK truly is super weather-resistant.
Stage 6: Downpour Test
Spraying the equivalent of a high-pressure hose on the M300 RTK, engineers at DJI drenched the drone with a powerful jet stream of water (IPX5). The results of this test were rather eye-opening as the M300 RTK withstood being belted with a blast of water equivalent to an actual downpour and kept right on working!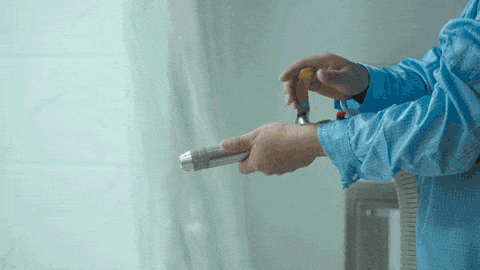 What is the IPX Rating System
The Ingress Protection (IP) rating system is an industry standard for evaluating electronics based on their enclosure resistance to liquids and solids. Below is an explanation of the three IP tests performed on the M300 RTK.
IPX1 certifies "protection against vertically falling droplets, such as condensation, ensuring that no damage or interrupted functioning of components will be incurred when an item is upright."
IPX4 certifies protection "against water splashes from all directions. Tested for a minimum of 10 minutes with an oscillating spray (limited ingress permitted with no harmful effects)."
IPX5 certifies "protection against low-pressure jets (6.3 mm) of directed water from any angle (limited ingress permitted with no harmful effects)."
The M300 RTK passed these challenges within a laboratory environment and was consequently awarded an IP45 rating from Centre Testing International Group Co., Ltd. which means it can withstand water projected at it by a 6.3 mm (0.24 in) nozzle from any direction and withstand ingress of solid objects greater than 1.0 mm (0.039 in) in diameter.
How Did DJI Achieve These Excellent Testing Results
You might be asking yourself, "How is all this possible?" The answer is the M300 RTK was designed with durability in mind.
Airtight Manufacturing
The M300 RTK is packed with smart features that are powered by sensitive electronic components. Housed inside the airframe, these items are crucial components for in-flight safety and stability. To protect these sensitive electronics and prevent damage, the airframe is manufactured with an airtight seal.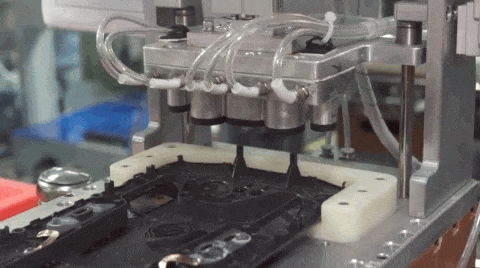 After assembly, critical parts of the drone, such as the wing box — which attaches the wings to the frame — and the vision sensor lens — which improves the drone's maneuverability — are also tested to ensure that everything is sealed airtight. In addition, these components are subjected to a pressure test to make sure they can withstand internal and external differences in pressure.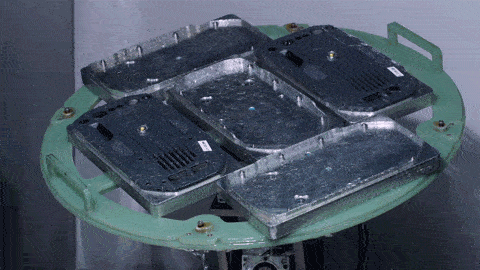 Elegant Heat Management
A contributing factor in the M300 RTK's impressive weather resistance is its unique heat management design. Engineers have crafted the UAV so that heat generated by the power-hungry internal components will dissipate upwards through a metal plate which then is passed away from the drone through its exhaust vents. Any water that enters the exhaust vents is still completely isolated from any sensitive internals.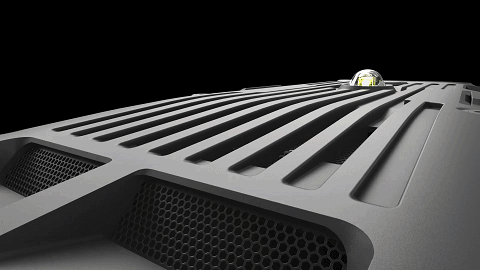 Re-enforced Motherboard
During manufacturing, a super-protective coating is automatically applied to the components on the M300 RTK's motherboard. This additional layer of protection insulates internal components and prevents damage from external forces.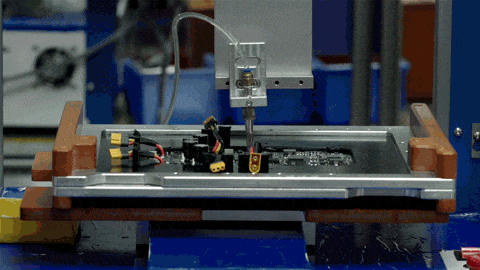 How Important is Weather Resistance
DJI engineers put so much emphasis on weather resistance because they know how important it is to have a product that provides uninterrupted operations during mission-critical situations. Passing these extreme testing measures is one of the reasons why the M300 RTK is the drone of choice for customers in a variety of industries including agriculture, construction, electrical power, oil & gas, and public safety.
Source: https://enterprise-insights.dji.com/blog/m300-rtk-hardcore-weather-resistance