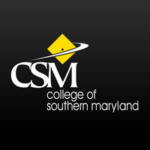 Overview
Founded Date January 1, 1900

Posted Jobs 0

Viewed 252
Company Description
The College of Southern Maryland (CSM) is a public, regional community college with a far-reaching mission — to help our students and community meet the challenges of individual, social, and global changes.
CSM is a thriving, progressive, and technologically advanced college that delivers quality higher education programs and services. The college is committed to offering a wide variety of learning options, student services, and high-quality workforce development training and support. That commitment is reflected in those we serve. More than 60 percent of tri-county residents who attend higher education institutions come to CSM.
The staff and faculty at CSM work closely with a diverse student population to provide a rich variety of educational options. CSM is a leader among Maryland community colleges in offering courses which meet the busy schedules of our students, including weekend and evening online classes, and Web-hybrid courses which offer a mix of online and traditional classroom face-to-face instruction. CSM strives to create a global education program, yet remains a local college that has a real stake in supporting our community's academic, professional, and self-enrichment pursuits.
CSM offers courses at three campus locations and several specialty centers in Southern Maryland for your convenience.