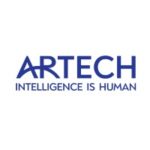 Overview
Founded Date January 1, 1900

Posted Jobs 1

Viewed 389
Company Description
Overview
Artech is the largest Women & Minority owned IT staffing firm in the US, with US$ 775 million in annual revenues and a footprint across the globe. With nearly three decades of experience, Artech empowers businesses through applied human intelligence and offers a spectrum of services that include Workforce Solutions (Contingent Staffing, Bulk/ Project Staffing, Master Vendor, and Direct Hire) and Consulting Solutions (Technical Operations, Development, Business Operations & Platforms). Artech works with over 85 Fortune 500 clients across USA, Canada, India, and China.
Our Brand Philosophy
We believe intelligence is a combination of technology and human ability translated into intelligent solutions. Today, organizations need a workforce that can provide intelligent business solutions. While talent needs opportunities to apply their intellect and progress in their career.
We empower both through applied human intelligence.
For us, intelligence is a way of life.
Our Talent Promise
At Artech, we are empowering talent by connecting potential with opportunities through applied human intelligence. We empower our teams to maximize the impact of their intellect, through a performance oriented, diverse, flexible, and inclusive work environment supported by our continuous learning and development focus.
Led by our visionary leadership, fueled by our values, and driven by our combined intellect, our teams work with some of the largest Fortune 500 clients, defining industry benchmarks while optimizing their careers.
Mission
Artech's mission is to be the ecosystem connecting people, technology, and opportunities through applied human intelligence.
Vision
Transforming our world by empowering global businesses through applied human intelligence
Active Jobs From Artech Information Systems